VIP Services That Cater To All Your Needs
When you are looking for a writing service that treats you like royalty, you should consider our VIP package! There is no reason to stress out about your important term papers anymore when you can simply leave the work to our experienced and trustworthy experts. EssaysEmpire.com provides you with the best quality of writing that is completely customized to meet your requirements. Our services are completely confidential, which means nobody will ever know that you ever purchased academic writing help. We use the most secure software to protect your identity as well as payment details.
Although our standard services have satisfied thousands of clients, we believe there are always ways to take things up another level. We achieve this through our VIP package, which includes additional features that will make ordering custom help even more convenient! When you are looking for complete confidence, our VIP package is the perfect solution!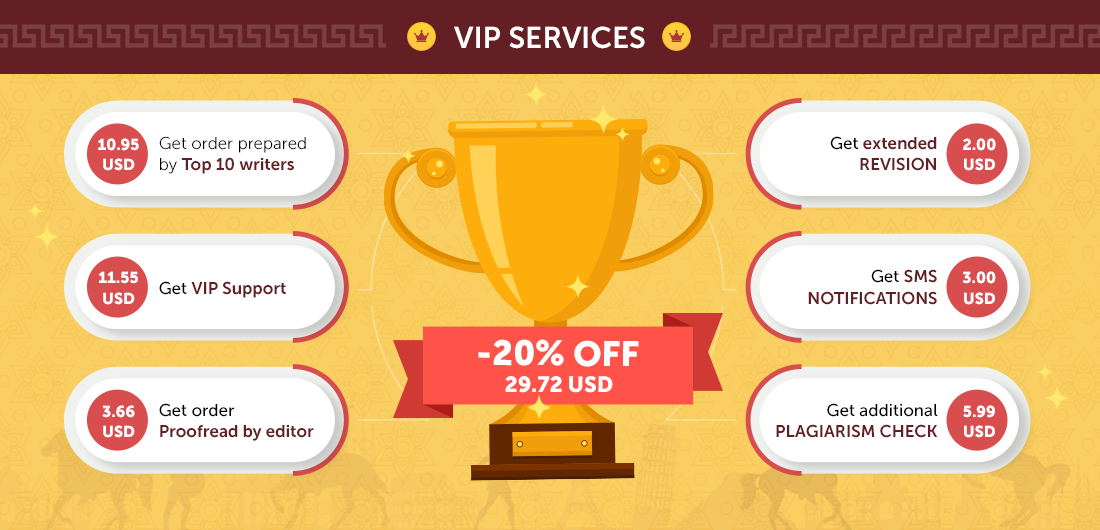 VIP Writing Services That Give You an Edge
When you become a VIP client, you gain access to the absolute best writers our company has to offer. In fact, you will only be assigned one of our top 10 writers, which ensures that your essay will be crafted by a dependable, knowledgeable expert. Their academic background and experience will be perfectly suited to handle the topics of your assignments.
VIP customer support is included as well
If you think our customer support is highly responsive when you use our standard services, just imagine what our VIP client support is willing to do for you! No matter how urgent the situation is, every request will be dealt with by our agents immediately. Your emails and phone calls receive the highest priority. All inquiries regarding your order will be solved through a phone call by our agents
The editors in our quality assurance department are evaluated according to their ability to properly proofread and edit your work. The top performing editors are assigned to proofread VIP clients' orders. They will meticulously check the paper, leaving no chance that it will contain even the most minor grammar or spelling mistake. They will also ensure that it follows your citation style format.
When you use our standard services, we provide clients with a 48 hour window to request free revisions upon completion of the order. However, we extend the period an additional 48 hours, giving you a full 4 days to put in a request!
You can receive messages that provide you with status updates about your order along with direct messages from your expert writer. This is the best way to keep you fully informed and avoid any potential problems with your order.
Additional plagiarism check
At EssaysEmpire.com we guarantee that you will never receive plagiarized work. When you use our standard services, we use a basic plagiarism checking software to ensure this. But when you take advantage of our VIP services, we use a highly effective program that provides more safeguards against plagiarism. Note that this extra scan applies to papers of 1000 words or greater.