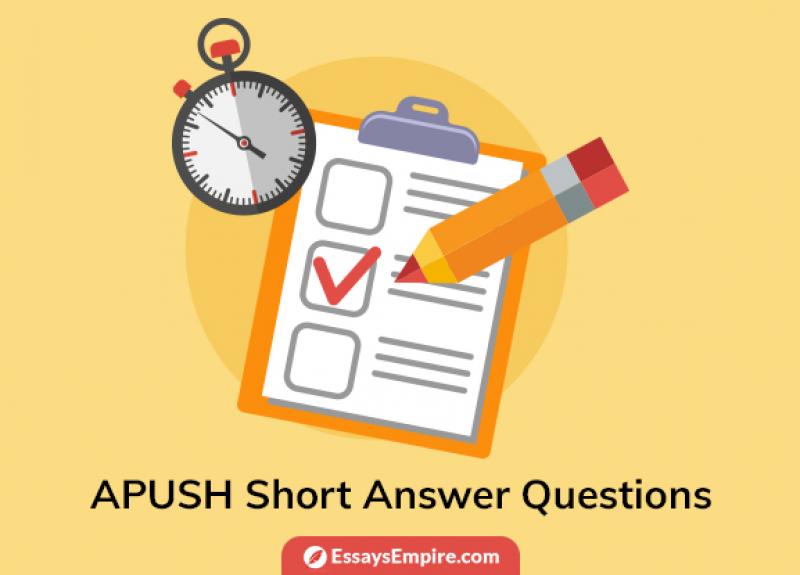 When it comes to APUSH short answer questions, many students stumble. It is not a secret that this type of assignment makes students confused. In most cases, the points earned for these answers will make up to 20% of your total course grade. Moreover, they will have great impacts on how you score during APUSH written exams. With this in mind, we have developed easy-to-follow guidelines for every student who wants to improve his or her academic scores.
To begin with, you should understand what APUSH short answer questions are and how they work. Imagine that you have a question on any aspect or topic that you have studied during the course. It is like writing a mini-essay, in which you answer each and every part of the APUSH question. You may not need to include an introduction or a conclusion, but you will need to address each dimension of the topic, as you see fit from the SAQ APUSH.
APUSH short answer questions usually come in the initial pages of a written exam. It may include two or three APUSH questions that are to be answered within 30-40 minutes or so. Perfect answers will make 20 percent of the written exam score. This is why it is so important to understand how to answer them properly.
The questions of this type are no different from many other questions that you may need to answer during your history exam. As always, your task is to collect and analyze relevant primary sources and historical documents, as well as visual or graphic materials, to produce a coherent answer. However, unlike some other exam questions, you will have a chance to choose which questions you are willing to answer. Different questions refer to different periods studied during the history course. You are free to choose two out of three questions for each period.
How to Deal with APUSH Short Answer Questions
When you are facing a short-answer exam, you need to be sure that you know how to handle this type of tasks. All APUSH SAQs are formatted in the same manner. They include a prompt, which may come from a historic document. It may also be some graphic or visual material from history. Sometimes, an APUSH question will include an excerpt from a historical speech or an opinion of a historical leader, and your task will be to defend or refute that opinion, using facts from history.
Remember that BRIEF is the key word when it comes to this type of assignment. It means that each answer should not even be close to a full-length formal historical essay. It will take time and effort to figure out what information should or should not be included in your paper. Of course, you are expected to use examples and illustrate your point, but not as thoroughly and meticulously as you would do in a 5-paragraph paper.
While you are not writing a full-length essay, you should not use it as justification of your incompetence. No matter what kind or type of questions you use, your obligation is to answer it completely, step by step. You will not receive full points even for the best answer, if it covers only half of the original question.
Read the SAQ APUSH. Take a minute to think about it. Brainstorm. Imagine the structure of your answer. Remember and recall the facts and stories that you have studied during the course that might help you answer the question fully. Do not include any information that does not relate to the question. Be concise and brief. Be informative and engaging for your reader. Your answer should flow smoothly from one aspect to another, creating a unique and interesting flow of ideas. Incorporate historical evidence into your answer and be ready to defend your opinion.
Now you can edit and revise your SAQ APUSH. Be ready to spend some time refining your draft. There is nothing worse than having a perfect answer that is full of grammar and spelling mistakes.
You can follow a simple strategy to improve your answer scores. Follow the steps below to produce the best academic and learning results. Remember that this type of assignment requires some basic essay-writing skills, but it is not the same as essay writing! You should be able to see the difference in order to earn the highest score.
1. Read and review the APUSH question.
2. See what you need to do. What is your task?
3. Review and analyze the documents that were provided to help you develop a coherent answer.
4. See if you need more information from outside sources to answer the question in the prompt.
5. If you have enough time for that, develop an outline for your answer.
Of course, practice is everything. Just try to write a perfect answer, and you will see that you can do it. The more you write, the easier it gets. It is your chance to excel in academic writing!
95% of satisfied returning customers
Free extras on your request
100% privacy guaranteed
The largest source database
Editors' approval
Flexible discount program
Certified writers only
A wide range of services
Plagiarism report
Custom written papers only
Customer support 24/7/365
Free revisions upon request